The Family Meeting/Retreat
The Family University of Life-Long Learning
The traditional family meeting is focused on a presentation on the current state of the family's financial, legal, business, and philanthropy status. Often, attendance of these meetings is met with confusion, dread, boredom, and resistance.
In contrast, a Family Retreat is insightful, creative and fun. Family members come together to have the deep types of conversations that rarely occur once individuals grow up, move away from each other, and create families of their own. The discussions and exercises are designed to meet the family where it is right now, and to take them to the next level. The goal is deeper understanding and compassion, wisdom and curiosity. The family is encouraged to attend with their hearts, ears and mind wide open. Rather than being lectured to, family retreats are interactive and exploratory, and filled with curiosity.
Topics and Issues We Delve into During Our Family Meetings/Retreats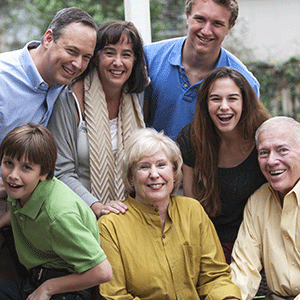 Values: We work with families (first individually and then as a family) to illuminate their most deeply held core and aspirational values and what they need to be successful, in order to support them in achieving their personal, business and family vision, mission and goals.
Vision/Mission: A family's Vision and Mission Statement provides a foundation and rock upon which to stake their claim. They provide guidance for where you are going, and who you are as a family. While similar in nature, it should be noted that the "family's" vision and mission (and values) are different from that of its family foundation or family business.
Crucial Conversations: From learning how to make decisions and govern as a family, to acquiring knowledge as to when and how to have the inheritance conversation, to developing leadership in the rising generation, to embarking on the most difficult conversations … all are skills learned through family gatherings.
Preparing Heirs to Receive Wealth and Responsibility: Family Wealth Education in the 21st Century has changed from focusing primarily on financial education. The 21st Century requires recognition and enrichment of individual family members' human, social, intellectual, spiritual, AND financial capitals.
More information on: The Rising/Next Generation.
Leadership: The topic of leadership has so many dimensions, from identifying and cultivating the leadership style in each family member, to transitioning from being a parental monarch to being a mentor.
Family Wealth Balance Sheet: The traditional Balance Sheet only reflects the family or family business' financial assets and liabilities. We take the time to explore all the families capitals that make up a family's wealth.
Onboarding: Introducing new members into one's family is a part of life. For families of wealth, it is especially important to take time to create a roadmap for lovingly and effectively introducing and fully integrating new members into the family's history, stories, values, and culture.
Power of the Family Story: Family members often know the general history of its family and how the wealth was created. Taking the time, however, to explore, share and document the family story from a lessons learned perspective provides wonderful guidelights to future generations.
More information on: Power of the Family Story
GUIDING THROUGH THE ISSUES
CHARITABLE GIVING TOOLS
Kitchen Table Giving
Private Foundations
Program Related Investments
Supporting Organization
Donor Advised Fund
Community Foundation
Social Venture Partnerships (SVP)
Charitable Remainder Trust (CRT)
Charitable Lead Trust (CLT)
Gift Annuity