Our Pillars of Success : What We Stand For
COMMUNITY : We help build community by bringing together people with multiple perspectives, experience, and knowledge from the fields of family wealth dynamics and philanthropy in a compassionate, safe environment.
CONVERSATION : We provide you with the tools to have those difficult conversations, and to dive deeply into the scariest and most difficult issues, knowing you will navigate them successfully.
CATALYST : We provide the tools and support to enable you to move from conversation into action and drive real change.
Professional Biography : Ginni Galicinao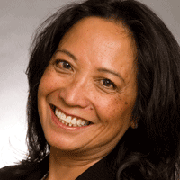 A Family Dynamics and Family Enterprise Coach and Consultant, Ginni Galicinao (More at Personal Story) has been working with high net worth individuals and families and their family businesses/enterprises for over two decades, with a goal of helping families flourish in all areas of their lives. From the first conversations around the meaning and impact of wealth, to empowering the rising generation, to helping couples work through the pre-prenuptial process, and designing educational programs that take the learning process beyond a discussion of trusts and legal documents, her work creates a solid foundation for life-long learning within the family. She is known for her ability to guide families and family businesses through the family governance process, the creation and implementation of effective family offices, succession planning and preparing for family business transitions and the evolution of the family business.
With a strong background in facilitation and mediation, many families in the process of transferring leadership of their family business and/or family foundation to the rising generation, have sought Ginni's strategic planning guidance. She is astute at facilitating and mediating discussions around confusing; interlocking roles and systems, and helping them create strategies that enable the family to make their way through the unique dynamics of a family business.
One individual likened her role to that of a Chief Learning Officer for families of wealth. For many, their introduction to Ginni is often the first time they've given serious attention to these issues as a family, or attempted to implement the information they have acquired from prior wealth seminars. The work she does is at the root of enabling families and their rising generations to flourish, thrive, and to make good, thoughtful decisions.
Ginni brings a variety of tools to the table in designing Family Retreats and strategies that match the specific needs of each family. She has been coaching, mediating, facilitating and consulting since 2004. Her background includes extensive experience, training, degrees and certifications in Advanced Family Business Advising, Advanced Family Wealth Advising, Chartered Advisor in Philanthropy, Organization and Family Relationship Systems, Executive Coaching, Compassionate Communication, Crucial Conversations, Professional Mediation, and a B.S. in Organizational Behavior from the University of San Francisco.
Speaker and Presenter
An accomplished and international speaker, Ginni has designed and led numerous seminars and workshops on the complexities and impact of inherited wealth and the world of philanthropy.
Leadership
In leadership roles since 1990, Ginni has:
Worked with numerous families and individuals of high net worth to design and facilitate family meetings/retreats and lifelong learning opportunities
Guided family businesses through governance and strategic planning processes
Helped individuals and families clarify the change they want to effect in the world
Raised millions of dollars for leading­-edge causes
Mentored and provided training to nonprofit Boards and staff
Served on numerous boards in California and Colorado